Contactless Hand-Wash Station
Product Description
A purpose designed fully contactless mobile hand-wash station.

The station is professionally flight-cased and easily transportable.

When deployed, hand-wash soap is available via a contact free auto dispenser.

Water is supplied via a motion activated tap, with adjustable temperature.

Hand drying is via fresh paper towels to avoid the aerosol created by air driven systems.

An integrated waste bin completes the fully contact-free hygiene process.

This delivers the highest quality and most compliant hand hygiene solution available.

The versatility and mobility of this product is such that it can be rapidly deployed to other locations when required, potentially reducing the quantity of stations needed on site.

Highly reliable and easy to service with consumables, it is also designed with ease of cleaning between deployments in mind.

A variety of modes-of-use are available.

It is possible for the unit to operate without mains power nor hose-work, supplying contact free, cold water operation.

When the station is to be more rigorously used, rear mounted inlet water and waste water pipe connections are available on all units. Hose sets are available to hire too.

Standard 240volt mains power adds adjustable temperature hot water.
Our products are designed to be used in any environment or industry
Covid19 best hygiene recommendations
Hand-wash Station:
The hygiene solution this Hand-wash Station provides is far superior to those which require physical contact, so this complies with the best risk assessments.
Soap combined with a minimum 20 second hand-wash & thorough rinse is far better than alcohol gel applications.
The use of paper towels presents far less risk than air powered hand-drying systems, which are thought to increase aerosol agitation.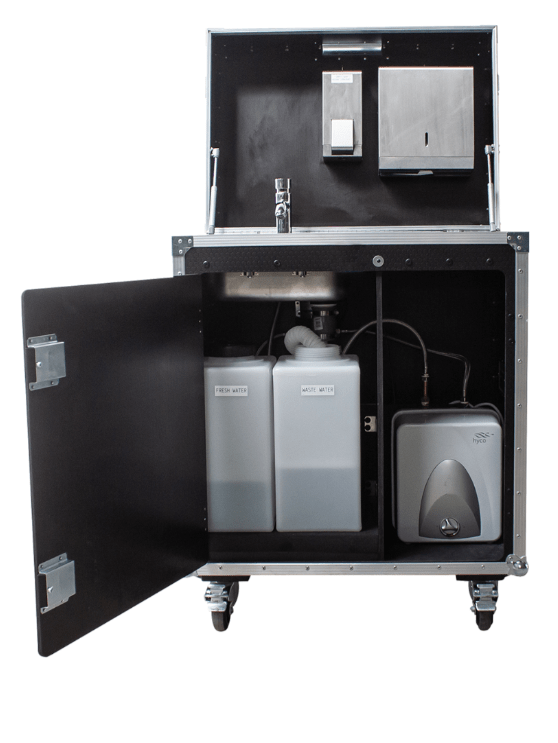 Zero contact with a physical surface is obviously safer, and this is achieved not only from the contactless operation, but also the ability to easily place the Station in strategic locations on site, allowing users to avoid risks such as the need to navigate high-traffic corridors and push/pull doorways. 
Many risk assessments will deploy a Station at the main Entrance and Exit points too.
Satellite alcohol gel towers can also be hired to act as auxiliary points of hygiene, but this station represents the best application in critical areas.
Added to the real world hygiene advantage, the confidence given by this fully featured Station to staff, visitors and clients alike, should mean a more assured compliance with other hygiene requirements.
They will feel they are being given the correct facilities and will be encouraged to make a difference and help to protect everyone on site.
Product Specs
Modes Of Use
Training
Servicing
Delivery & Collection
Product Specs
Temperature controlled hot water

Works from standard 240Volt supply, using 13A domestic or 16A commercial outlets
Weight 60kg
External Dimensions: Lid Closed   

       
Width 81xm x Depth 58cm x Height 109cm.
External Dimension: Lid Open
Width 81cm x Depth 58cm x Height 167cm.  
Total internal water capacity = 20 litres fresh, 20 litres waste

When using external water connections:




The inlet supply connects via a standard 'hoselock' style connector

(This allows for an inlet valve keeps the internal reservoir topped up and only draws in water when required.)
The waste outlet connections use gravity feed to empty

Motion controlled tap

Motion controlled soap dispenser

Contactless hand washing

Hand towel dispenser

Integrated Bin

Professional tour-grade, easy clean,  flight-cased construction.

Locking castors

Hydraulic lid stays

Additional fixed-stay can be deployed for high wind conditions, to prevent unintentional lid closure

Mounting options offered for custom client-branding & bespoke site safety messages.

In stand alone mode, the internal water capacity of 20 litres will allow for approximately 200 hand washes before waste-empty and fresh water refill is required
The Soap dispenser requires two AA batteries and will deliver approximately 5000 operations before battery replacement necessary
The internal 20 Ah 12Volt DC LiPo battery auto charges when on mains power.
When being used in stand alone mode it can deliver approximately 15 hours of constant normal use, before needing to be recharged.
It will normally recharge fully in 4 hours, and be ready for stand alone use again.
Modes Of Use
Training
Servicing
Delivery & Collection
ASK ABOUT OUR SIGN UP DEALS!!
Basic Package
£
100
p/week for an ANNUAL commitment
£115 p/week for a QUARTERLY commitment

£130 p/week for a MONTHLY commitment

£150 for a 1 WEEK commitment

£120 p/day for a 1 DAY commitment
Bronze Package
£
110
p/week for an ANNUAL commitment
£125 p/week for a QUARTERLY commitment

£140 p/week for a MONTHLY commitment

£160 for a 1 WEEK commitment

£13O p/day for a 1 DAY commitment
Silver Package
£
115
p/week for an ANNUAL commitment
£130 p/week for a QUARTERLY commitment

£145 p/week for a MONTHLY commitment

£165 for a 1 WEEK commitment

£135 p/day for a 1 DAY commitment
Gold Package
£
120
p/week for an ANNUAL commitment
£135 p/week for a QUARTERLY commitment

£150 p/week for a MONTHLY commitment

£170 for a 1 WEEK commitment

£140 p/day for an 1 Day commitment
| Package | Training Online | Training Onsite | Help-line 10am-5pm | Help-line 24Hr/7Days | Fault Response: Unit Return To ESS | Fault Response: Onsite Technician | Fault Response: Unit Swap Within 24Hrs |
| --- | --- | --- | --- | --- | --- | --- | --- |
| | | | | | | | |
| | | | | | | | |
| | | | | | | | |
| | | | | | | | |
Let's Take Control Of Covid Together